About Heard Woodworking
Launched in September 2000,
Heard Woodworking's mission is to bring customers high quality, custom, handmade cabinetry at reasonable prices. Heard Woodworking offers complete design services from high end kitchens to a single mantle piece. All Heard's cabinetry is made by experienced, master craftsmen in their woodworking shop located in Chatham, New Jersey. Offering a wide range of finishes, including pigmented lacquers, stain, and finish, in various glazing affects, Heard can design cabinetry to fit any home's décor.
Combining 21st century technology with old-world craftsmanship, Heard's designs are all done on computer, so homeowners can experience their dream kitchen or entertainment center in 3D even before the first piece of wood is cut.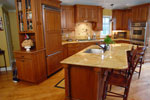 About Russell Heard, President
Russell Heard, President of Heard Woodworking, has over 15 years experience in custom cabinet making. With a degree in "Carpentry Construction Technology", Russell has both the education and real world experience to bring you unsurpassed craftsmanship in every design. Working alongside New Jersey and New York area's most prominent builders and contractors for over 10 years, Russell's expertise extends to on and off site management of projects, personnel, and tradesmen.